Cloud Accounting
---
The latest technology for accounting firms as well as business owners is cloud accounting software. The benefits of moving your business onto a cloud accounting system are significant, and create a lot of efficiency when collaborating with your Chartered Accountant as well as your Bookkeeper.
The ability to see the financial position of your business from anywhere, at any time, on any device is a significant benefit for all business owners, especially small business owners. Cloud accounting software allows you to save time and run your business, by entering expenses on the go, or even invoicing a customer from your smartphone.
Cloud accounting allows us to support small businesses located anywhere in Canada. While our firm is located in Vaughan, just north of Toronto, cloud-based solutions make it possible for us to provide top quality service to clients nationwide, and to our international clients with Canadian based businesses.
Cloud Services We Offer:

Free cloud accounting software setup
Full service cloud accounting
Cloud bookkeeping
Secure, cloud based document transfer
Cloud solutions for corporate & personal tax filing
---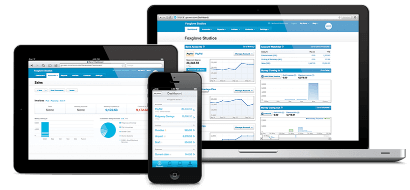 Benefits of Cloud Accounting Software
---
Access From Anywhere, On Any Device
Cloud software allows you to access your accounting software from anywhere in the world, at any time of day.  Simply login from any internet-enabled device and you have access to all of your business' financial information.  All of the cloud accounting solutions that we offer also come with smartphone apps, making it even easier for you to stay up-to-date.
Real-Time Reporting
Cloud accounting software allows for all of your financial reporting to be accessed in real-time.  Better reporting means you can make better decisions; helping you and your business succeed.
Automatic and Free Software Updates
You will never need to worry about upgrading the accounting software for your business. Having cloud based accounting software means it is always up-to-date. The updates simply happen in the background, and best of all, are always free.